It is worthwhile knowing more about Mary based on Bible
We know that certain people are averse to learn about Mary, and we pray to Jesus to open their intellect to understand the sanctity and gracefulness of Mary.
It is good to understand the simple yet prominent role of Mary in God's plan, and learn how God used her in a mighty way.  Before we linked Mary's life with the Bible, we referred many historical books and found some very useful information we'd like to share here. The Lord God, filled Mary with His grace in abundance and this can be seen throughout Mary's life.
Through hardship and difficulties, she had grace to bear it all with immense and incredible faith in her Lord. When Mary turned fourteen, Priest Zechariah said to her, "It is customary for all young maidens at your age to marry." That night an angel appeared to the old priest in a dream and said, "Do not worry, Zechariah. Tomorrow have each suitor bring with him a staff. The Holy Spirit will give a sign as to who shall be Mary's husband."
The Holy Spirit, was always present with Mary, her future husband was led and drawn by the same spirit.
The next day the suitors crowded into the Temple, each holding a staff in his hand. Kneeling, they prayed for a sign. All at once a lily was seen to bloom from the staff held by Joseph, a builder and carpenter.  "How can it be that the Lord has chosen me?" Joseph said. But Zechariah shook his head "The Lord has given a sign, Joseph." And turning to Mary the priest asked "Mary what is your wish?" Moved by the events and Joseph's humble words, Mary extended her hand to Joseph, saying, "I accept."
That day the marriage contract was signed. According to Jewish custom, in twelve months the wedding ceremony would be celebrated. 
Humility was Mary's divine nature, she never questioned, but humbly accepted the events in her life each time. On many occasions, we see this outstanding quality in her.
In the meantime, Mary returned to her parents while Joseph departed for a distant town where he was about to begin work on the building of a Temple. The commission was a great honor, but it would separate the couple for nearly a year.
Why did this engagement take place?
According to the Jew's law, after the engagement, both of them can live together and they will be regarded as husband and wife.
Mary delivered her baby before her marriage. This is mentioned in Luke 2:5 "He went to register with Mary, who was promised in marriage to him, she was pregnant".
This engagement transpired so as:
Not to defame Mary, or have people speak ill of her.
To save Mary from the law of Moses which is "To have the woman who is pregnant before marriage be stoned to death "
To have the genealogy of Jesus from a man and not from a woman.
At daybreak one spring morning, Mary went to draw water from the well before her parents awakened. All at once she heard a voice.
Luke 1:28, 30-31, 34-35, 38 The angel came to her and said, "Peace be with you! The Lord is with you and has greatly blessed you!"  The angel said to her, "Don't be afraid, Mary; God has been gracious to you. You will become pregnant and give birth to a son, and you will name him Jesus. Mary said to the angel, "I am a virgin. How, then, can this be?"  The angel answered, "The Holy Spirit will come on you, and God's power will rest upon you. For this reason, the holy child will be called the Son of God". "I am the Lord's servant," said Mary; "may it happen to me as you have said." And the angel left her.
Once a person asked us, Why was Zechariah (father of John the Baptist) punished for doubting God's message, while Mary was not? we think it will be appropriate to explain the reasons here.
Luke 1:6 says 'Zechariah and Elizabeth were righteous in the sight of God, observing all the Lord's commands and decrees blamelessly'. Zechariah was a priest, according to Jewish custom, all priests had to learn God's commandments and His Word. Fortunately, by casting lots, Zechariah got the opportunity to enter the temple of the Lord and burn incense. At that time, an angel appeared and told him that his prayer is heard and his wife will bear a son; however, he couldn't believe because of their advanced ages.
As Zechariah was a priest, he knew God blessed Abraham and Sarah at a very old age with a child, which clearly proved that nothing is impossible for God. He also knew that the Lord had blessed Hannah and Manoah in the same way.  Likewise, he too prayed for the same blessing.
Point to note: Zechariah was punished because he doubted when he received an answer to prayer from God.  Furthermore, Zacharias's reason to doubt was the advanced years of him and his wife. It is evident that he couldn't trust God's message more than their physical condition.
Mary, on the or hand, asked in Luke 1:34 "I am a virgin. How, then, can this be?"  I believe, it is not a doubt but a logical question since she was a virgin. And when the Angel answered that there will be a work upon you from the Holy Spirit – Mary immediately accepted.
Point to note: There were a few incidents in the Bible bearing witness to the birth of children in the old ages of parents which Zachariah is familiar with. However, there is no incident of virgin birth that Mary can refer to.
When Mary received the message, she paved the way for its fulfillment by surrendering herself completely to God, and thus the Holy Spirit was able to work marvelously in her. If the land that Jesus walked on is Holy, imagine how blessed is the womb that bore Him…
Mary wondered what kind of destiny she had carved for herself. Moreover, she might have thought that how was she to explain this to her parents, neighbors, relatives and most importantly to Joseph? But by then, she was fully filled with the grace of God.
When Joseph was told about Mary's pregnancy, to spare Mary from any public shame, Joseph decided that she was to go into seclusion and that the engagement be broken.  Matthew 1:20-21 says: "But, that very night an angel appeared to Joseph in a dream and said, "Joseph do not be afraid to take Mary as your wife. She has conceived her child through the Grace of the Holy Spirit. It will be a son, and you must name him Jesus, for He will be the salvation of the world."  When Joseph woke up from the dream, he did what the angel of the Lord had commanded him, and took Mary home as his wife.
Point to note: When the angel appeared to Joseph, he believed and did not question the course of events. His silent role from then on was what made him also establish a mighty role in the fulfilment of the prophecy about the birth of Jesus. Joseph also became a blessed person to intercede for all believers.
We believe all Christians should understand the importance and interpretations of 'Mary's visit and greetings to Elizabeth'.
As Mary heard the news from the angel that Elizabeth is pregnant, Mary set out and went with haste to a Judean town in the hill country, where she entered the house of Zechariah and greeted Elizabeth.  When Elizabeth heard Mary's greeting, the child leaped in Elizabeth's womb and she was filled with the Holy Spirit. This was a fulfilment of the angel's prophecy to Zechariah as per Luke 1:15.  In the New Testament, Elizabeth and the baby in the womb are the second persons who received the Holy Spirit. Acts 1.8 says 'when the Holy Spirit comes upon a person, you will receive power'.  As soon as Elizabeth received the Holy Spirit, she exclaimed "Blessed are you among women, and blessed is the fruit of your womb" "Why has this happened to me, that the mother of my Lord comes to me. Blessed are the people who believed that there would be a fulfillment of what was spoken to her by the Lord." From her words we understand that Mary is so blessed because she believed the Lord's words.
Point to note: Elizabeth spoke the words guided by the Holy Spirit. She was a simple housewife, but she knew the importance of the role Mary was to play in the coming days. She was the first person who called Mary as the Mother of Lord. These words inspired Mary and she sang the glory of God – 'the magnificat'.
"My soul magnifies the Lord, and my spirit rejoices in God my Savior, for he has looked with favor on the lowliness of his servant. surely, from now on all generations will call me blessed; for the Mighty One has done great things for me, and holy is his name. His mercy is for those who fear him from generation to generation. He has shown strength with his arm; he has scattered the proud in the thoughts of their hearts. He has brought down the powerful from their thrones, and lifted up the lowly; he has filled the hungry with good things, and sent the rich away empty. He has helped his servant Israel, in remembrance of his mercy, according to the promise he made to our ancestors, to Abraham and to his descendants forever."
Luke 2:1, 4-5 "In those days Caesar Augustus issued a decree that a census should be taken of the entire Roman world. So Joseph also went up from the town of Nazareth in Galilee to Judea, to Bethlehem the town of David, because he belonged to the house and line of David. He went there to register with Mary, who was pledged to be married to him and was expecting a child."
On the way to Bethlehem where they were going to be 'enrolled', Mary got down from her donkey, knowing that her time had come. Joseph took her into a cave and while the heavens stood still and the birds of heaven rested, while time itself throughout nature and humanity came to a stop, there, Mary gave birth to Jesus. A great light appeared in the cave as the baby was born. THE SUN HAS RISEN AT MIDNIGHT.
Mary did not undergo pain during her delivery
Once, after we explained the subject of Mary in our workshop session, a gentleman asked me, In Genesis 3:16, God said to the woman, "I will increase your trouble in pregnancy and your pain in giving birth." According to him, all woman must undergo childbirth with pain. His question was clear – Whether Mary had pain during her delivery or not? I was perplexed, but the Holy Spirit enlightened me with a word from Isaiah 66:7-8  'Before she goes into labor, she gives birth; before the pains come upon her, she delivers a son.  Who has ever heard of such things? Who has ever seen things like this?" This is one of the prophecies about Mary's conception, and her childbirth without pain is the fulfilment of the above prophecy.
The second evidence of Mary's childbirth without pain is that Angel Gabriel addressed Mary with a salutation  "Hail Mary FULL of GRACE".  Full of grace means the absence of sin. In other words, none of the sinners can be 'full' of grace. So therefore Mary can't undergo childbirth pain because she was a sacred seed set apart prior to the creation of Adam and Eve.
Point to note: Mary obeyed the Lord and her husband and risked the journey (for the census) even though she didn't know when she would give birth.. God made her go through childbirth with absolutely no pain. This shows how special and precious she was to the Lord.
Mary was a chosen child of God who never tasted sin. God nourished a pure seed to give birth to His son. That seed was Mary.
From the birth of Jesus, the next significant event was  the time of presentation to the Lord, Joseph and Mary took Jesus to Jerusalem where they met Simeon who entered the temple by the inspiration of the Holy Spirit.
 Presentation of Jesus at the Temple
Luke2:22-35 "When the time came for the purification rites required by the Law of Moses, Joseph and Mary took him to Jerusalem to present him to the Lord (as it is written in the Law of the Lord, "Every firstborn male is to be consecrated to the Lord"), Now there was a man in Jerusalem called Simeon, who was righteous and devout. He was waiting for the consolation of Israel, and the Holy Spirit was on him. It had been revealed to him by the Holy Spirit that he would not die before he had seen the Lord's Messiah. Moved by the Spirit, he went into the temple courts. When the parents brought in the child Jesus to do for him what the custom of the Law required, Simeon took him in his arms and praised God, saying:  'Sovereign Lord, as you have promised, you may now dismiss your servant in peace.  For my eyes have seen your salvation' ". which you have prepared in the sight of all nations:  a light for revelation to the Gentiles, and the glory of your people Israel."  The child's father and mother marveled at what was said about him.
Then Simeon blessed them and said to Mary, his mother: "This child is destined to cause the falling and rising of many in Israel, and to be a sign that will be spoken against, so that the thoughts of many hearts will be revealed. And a sword will pierce your own soul too."
Background of Simeon:
He was one of the seventy scribes who was called to assist in the translation of Biblical scriptures from Hebrew to Greek. Simeon was a just and devout man who met Mary, Joseph and Jesus at the temple come to fulfil the requirements of the Law of Moses within the 40 day time. This is also fulfilling Malachi's prophecy in 3:1, "I will send my messenger to prepare the way for me. Then the Lord you are looking for will suddenly come to his Temple. The messenger you long to see will come and proclaim my covenant."
Simeon was one of the seventy scribes who was called upon to assist in the translation of Biblical scriptures from Hebrew to Greek. He was a righteous and devout man who was waiting and praying for the consolation of Israel. More specifically, he was one of the scribes that helped to translate the prophecy of Isaiah. When translating his scroll, Simeon came across the text of Isaiah 7:14 " The young woman (virgin) will conceive and give birth to a son, and will call him Immanuel", he found it hard to believe that the term "virgin" was the correct reading, given the impossibility of a virginal conception. When he was determined to translate "virgin" to "young woman," the archangel Gabriel appeared and told him that "virgin" was, in fact, the correct word to use, and that he would live to see the day when this would be fulfilled—the birth of the Messiah by a pure and spotless virgin. And so, Simeon obeyed the angel, using the word "virgin" in his translation. To fulfill the prophecy of the angel, Simeon entered the Temple at the time of the presentation of Jesus, by the inspiration of the Holy Spirit.
The Holy Spirit, had revealed to him that before he died, he would see the Lord's anointed one Who was none other than Jesus Christ. This was a prophecy that was a blessing and also a prophecy that would take its course to entwine with what the Lord had destined.
Point to note:
The Holy spirit communicated to Simeon that Jesus is the only way to salvation (and this is the message he conveyed to Mary and Joseph Luke 2:31-32), Mary and Joseph were perplexed and must have rejoiced at the same time on hearing Simeon's message. When Simeon revealed still further to Mary specifically that her child would be the fall and rise for many in Israel and a sword will pierce through her own soul.  This must have been earth shattering for Mary. After going through the birth of Jesus under unusual circumstances she barely recovered and was confronted with another revelation that Jesus and all who believed in him would rise (from the dead) and others who did not believe would fall before him.  1 Corinthians 1:23 says but we preach Christ crucified, a stumbling block to Jews and foolishness to Gentiles, but to those whom God has called both Jews and Greeks, Christ is the power of God and the wisdom of God.
Simeon foretold Mary that with a sword her soul would be pierced, because of Jesus's death on the cross. Mary would watch her only precious and beloved son die at which time he too would be literally pierced with a sword (John 19:34)
Mary, must have been distraught on hearing this; nevertheless she still bore it all meekly in her heart. She did not question nor seek any answers, but as always, surrendered it all to the Lord. The presentation of a baby at the temple was a ritual full of anticipated blessings for the baby and joy for the mother. Yet for Mary it marked her time with her son. She knew he would be with her only for a short while. We can only begin to imagine her fear, turmoil and tears all borne silently.
Simeon's, message inspired by the Holy Spirit is still true today as Jesus is the cause for many to rise and fall. For all those who believe in him and repent in their ways and who trust in Him will rise. But those who reject Him will forever be wiped out (Revelations 20:12-15). In these verses it tells us about those whose name will be in the Book of Life and the eternal punishment of the wicked.
Mary's heart was pieced with sorrow when Jesus died, from her son's heart gushed streams of living water and blood that flowed to cleanse the world of its sins. Together Mother and Son were united forever.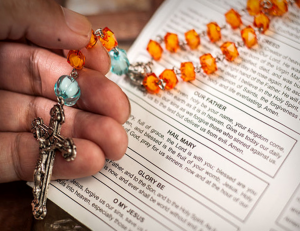 The Seven Sorrows of our Blessed Mary
The prophecy of Simeon: "And Simeon blessed them, and said to Mary his mother: Behold this child is set for the fall and for the resurrection of many in Israel, and for a sign which shall be contradicted; And thy own soul a sword shall pierce, that out of many hearts, thoughts may be revealed" (Luke 2: 34-35)
The flight into Egypt: "And after they (the wise men) were departed, behold an angel of the Lord appeared in sleep to Joseph, saying: Arise and take the child and His mother and fly into Egypt: and be there until I shall tell thee. For it will come to pass that Herod will seek the child to destroy Him. Joseph arose and took the child and His mother by night, and retired into Egypt: and He was there until the death of Herod" (Matt. 2: 13-14).
The loss of the Child Jesus in the temple: "And having fulfilled the days, when they returned, the Child Jesus remained in Jerusalem; and His parents knew it not. And thinking that he was in the company, they came a day's journey, and sought him among their kinsfolk and acquaintances. And not finding Him, they returned into Jerusalem, seeking Him" (Luke 2: 43-45)
The meeting of Jesus and Mary on the Way of the Cross: "And there followed Him a great multitude of people, and of women, who bewailed and lamented Him" (Luke 23: 27)
The Crucifixion: "They crucified Him. Now there stood by the cross of Jesus, His Mother. When Jesus therefore had seen His Mother and the disciple standing whom he loved, He saith to His Mother: Woman: behold thy son. After that he saith to the disciple: Behold thy Mother" (John 19: l8, 25-27)
The taking down of the Body of Jesus from the Cross: "Joseph of Arimathea, a noble counselor, went in boldly to Pilate, and begged the body of Jesus. And Joseph buying fine linen, and taking Him down, wrapped Him up in the fine linen" (Mark 15: 43-46)
The burial of Jesus: "Now there was in the place where He was crucified, a garden; and in the garden a new sepulcher, wherein no man yet had been laid. There, therefore, because it was the Sabbath of the Jews, they laid Jesus, because the sepulcher was nigh at hand" (John 19: 41-42)
A servant is one who obeys the master's command.
When Mary heard this prophecy, she claimed it immediately. When she said, "may it happen to me as you have said" at that very moment, the first and only Immaculate Conception took place in this world!!!  That same moment Mary had conceived.
Luke 1:28-31 The angel Gabriel came to Mary and said, "Hail, full of grace, the Lord is with you and has greatly blessed you! Don't be afraid; God has been gracious to you". But she was greatly troubled at the saying, and considered in her mind what sort of greeting this might be. And the angel said to her, "Do not be afraid, Mary, for you have found favor with God. And behold, you will conceive in your womb and bear a son, and you shall call his name Jesus". Mary asked the angel, "How can this be, since I have no husband?"   The angel answered, "The Holy Spirit will come upon you, and the power of the Most High will overshadow you; therefore the child to be born will be called Holy, the Son of God". Mary accepted the purpose of her divine call and answered "Behold, I am the handmaid of the Lord; let it be to me according to your word".  As soon as Mary accepted her call to become the mother of God, the prophecy of Isaiah 30:18 was fulfilled – "Therefore the Lord waits to be gracious to you; therefore he exalts himself to show mercy to you. For the Lord is a God of justice; blessed are all those who wait for him".